I love watching Youtube videos of cosmetic reviews because I'm a fellow recovering product junkie. It's an expensive addiction that I've curbed over the years, so I definitely try to be an informed consumer before I make my purchases. At least that's how I justifiy it to my husband! :)
The recent hits:
Estee Lauder Advance Night Repair Serum
- I think the whole pregnancy "glow" is BS made up to make us feel a little better about the state of utter crap our skin is in. Even my beloved SK-II Facial Essense wasn't cutting it. After applying this on a clean face, I woke up with noticeabaly softer and smoother skin. I had a dry patch on my cheek that seemed completely go away overnight. I'm loving it! It's a bit pricey, but worth it IMO.
Prada Infusion d'Iris
- I'm not big on perfumes, but happened to get a sample of this heavenly scent and had to have it. SMELLS SOO GOOD PEOPLE. Such a fresh and clean summer scent, not overpowering.
TRESemme Dry Shampoo
- every mom's saving grace. I've used Suave's version and it's meh. I like Tresseme's heat protectant and wanted to give this a try. It does leave a bit of a white cast if you have dark hair like me, but I think it fades after you brush it through. It smells great and leaves my hair with extra volume. Would repurchase.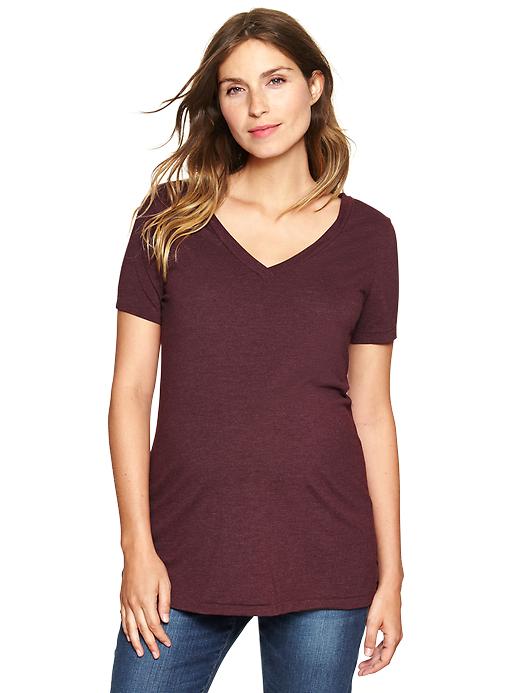 Gap Maternity V Neck Tunic
- I've been trying not to buy any maternity clothes since this is my last baby, but glad I picked up this preggo tee during their 40% off sale. Long enough to wear leggings and is super soft. I'll probably pick up one or two more to lounge around in.
The recent misses:
Loreal True Match Lumi
- I'm always on the search for my HG foundation since I have combination skin that's gotten especially out of hand with the pregnancy. I had high hopes for this product, but it just wasn't right for me. This left my face an oil slick after 3 hours unless I put on a primer. Ain't nobody got time for that! If your skin is on the drier side, and you are looking for light coverage, maybe give it a try.
Caudalie Divine Oil
- Am I the only woman that hates putting on lotion? It's such a beating! I figured I would give oils a try since it seemed dual purpose in that I could slather it on my body, face, and hair. Grape oil, extra virgin argan oil, hibiscus oil - it all sounds DIVINE, right? The reviews were great for this product and while I wanted to love it, I just wasn't completely sold. My skin didn't feel "extra" moisturized although the husband loved the smell. Pretty pricey for what it is and you actually need a lot for the whole body. I think I'll just stick w/ good old Cetaphil.
What are some of your recent hits & misses?!